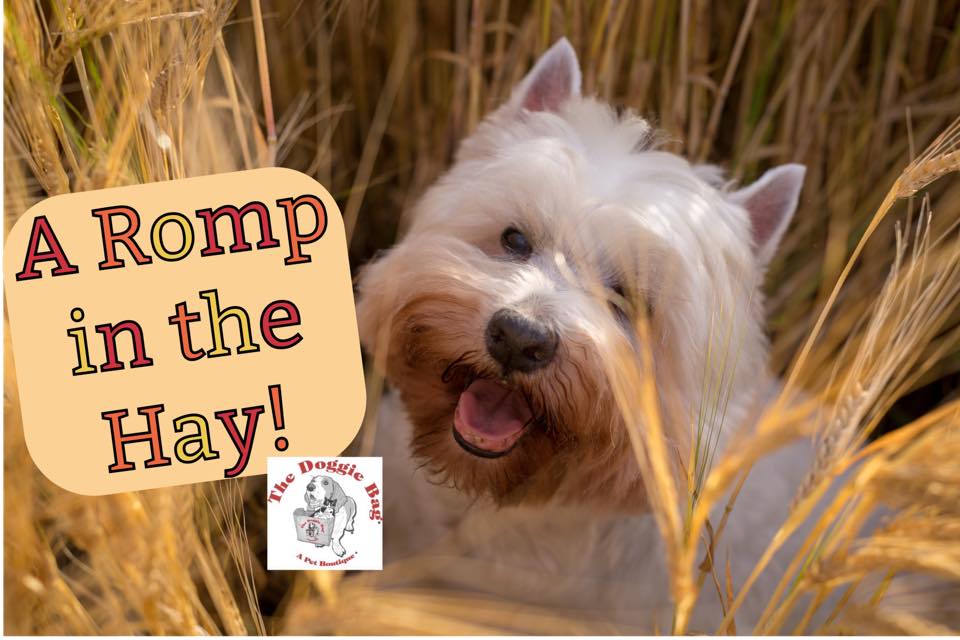 Paint with Your Pup Pawty
Saturday, March 25th
11 to 2
Let your Dog Unleash their inner Pupcasso!
Join us at The Doggie Bag on Saturday, March 25th for a Painting Pawty. For $15 your pup will get to paint a Masterpiece, and get a yummy snack!
Don't stress over dirty paws, this Work of Art will be created via peanut butter and your dog's tongue.
And, 100% of the proceeds go to our friends at Until Such Time Rescue & Sanctuary. And...they will have adoptables on site.
Mark your calendars, and clear a space on the wall...there's a new artist in the house!
Paint with Your Pup
The Doggie Bag
A Pet Boutique
1702 E. Edgewood Drive
Lakeland, FL 33803
863-683-6220
May 16th, June 3rd
Meet the experts, we're talking Canine Nutrition, Feline Nutrition, Pet Anxiety, Picky Eaters, Allergies, Creating an Ideal Meal, Raw Feeding, Feeding Freeze Dried, The Best Food for Your Pet, Benefits of Supplements, Grain Free vs Grain Inclusive, Beating the Heat, Chew This...just to name a few!
Tuesday, May 16th Callie from Small Batch Pet Foods
6pm to 7pm
Please call to reserve your spot, 863-683-6220.
Saturday, June 3rd Kaiya from Farmina Pet Foods
12pm to 4pm Come by anytime to chat with Kaiya, no RSVP necessary.
Anesthesia-Free Pet Dentals (2023)
Saturday, March 4th
Saturday, April 1st
Saturday, May 6th
Saturday, June 3rd
Saturday, August 5th
Saturday, September 2nd
Saturday, October 7th
Saturday, November 4th
Saturday, December 2nd
CALL TO SCHEDULE AN APPOINTMENT, 863-683-6220
•Canine Dental Service, Inc. will be performing anesthesia free dog and cat dental cleanings at The Doggie Bag in Lakeland, FL
•Only $195 per pet
•$25 Deposit Guarantees Appointment
•ON-SITE VETERINARIAN PERFORMS HEALTH SCREENING BEFORE ALL DENTAL CLEANINGS
•Their technique is kind and gentle. The pet simply sits in their lap, and as they praise and reassure them, they remove plaque and clean the mouth.
VISIT THEIR WEBSITE K9DentalService.com
Date TBA
Let your pup romp and roll until they find the Treat in the Haystack! It's $5 a Romp, and 100% of the proceeds will go to our friends at Raining Cats & Dogs Animal Rescue!
And, Raining Cats & Dogs will be here, so you'll get to meet adoptable pups, and maybe make a Love Connection!
Be sure and Come Hungry, La Palapa Food Truck will be on site offering delicious Tacos, Quesadillas, Nachos & More!
We'll have FREE SAMPLES from one of our favorite Food Companies, Champion Pet Foods (Acana & Orijen)!!
The Doggie Bag Bark Yard (Our Back Yard)
1702 E. Edgewood Drive, Lakeland, FL
Saturday, November 4th 12-4
Saturday, November 11th 12-4
Saturday, November 18th 12-4
Saturday, November 25th 12-4
Santa Claus is coming to The Doggie Bag!
Mark your calendars, Polk County's Best Santa will be back again for Santa Pics!
So, load up the Kids (fur kids and human kids) and experience The Real Deal Santa and one of the finest photographers in town, Jennifer Goodlet Photography. Call The Doggie Bag to schedule your Pic with Santa, 863-683-6220.
All Pets & Their People Welcome.
Packages start at $35.
Shop in the Name of Love
'Shop in the Name of Love-Give Thanks by Giving Back' Month Long Event at The Doggie Bag!
In honor of the season of giving thanks, we want to Share our Love for our Community by Giving Back.
Each week in November we will Spotlight a local Rescue. Customers will have the opportunity to purchase Raffle Tickets (in store) for a chance to WIN a Gift Basket valued at over $250 (that's a total of 4 baskets)!!!
100% of the Raffle Tickets Sales will go directly to the Rescue of the Week! The more you buy, the more goes to the rescue, and the better your chance to WIN the Pawsome Gift Basket!!! Get it... Shop in the Name of Love!
Have questions, give us a call, 863-683-6220.